The end of the year is approaching and it is time for all of us to take stock of the last 12 months of work. As always, our teams in Brussels, in the Great Lakes region and in the Sahel have not been idle in 2022!
Through a selection of images, we offer you a glimpse of their essential work at the service of livestock keepers and their herds, throughout the year.
See you next year!
2022 in 15 images
January, Rwanda. Launch of a new, innovative project, funded by Enabel: breeding black soldier fly larvae. The dried larvae are very rich in protein and fat, making them ideal for feeding pigs and chickens. The larvae can be fed on kitchen scraps and manure, and they are an excellent alternative to imported soya and fish meal. Watch this video to learn all about this futureproof, ecological and accessible solution.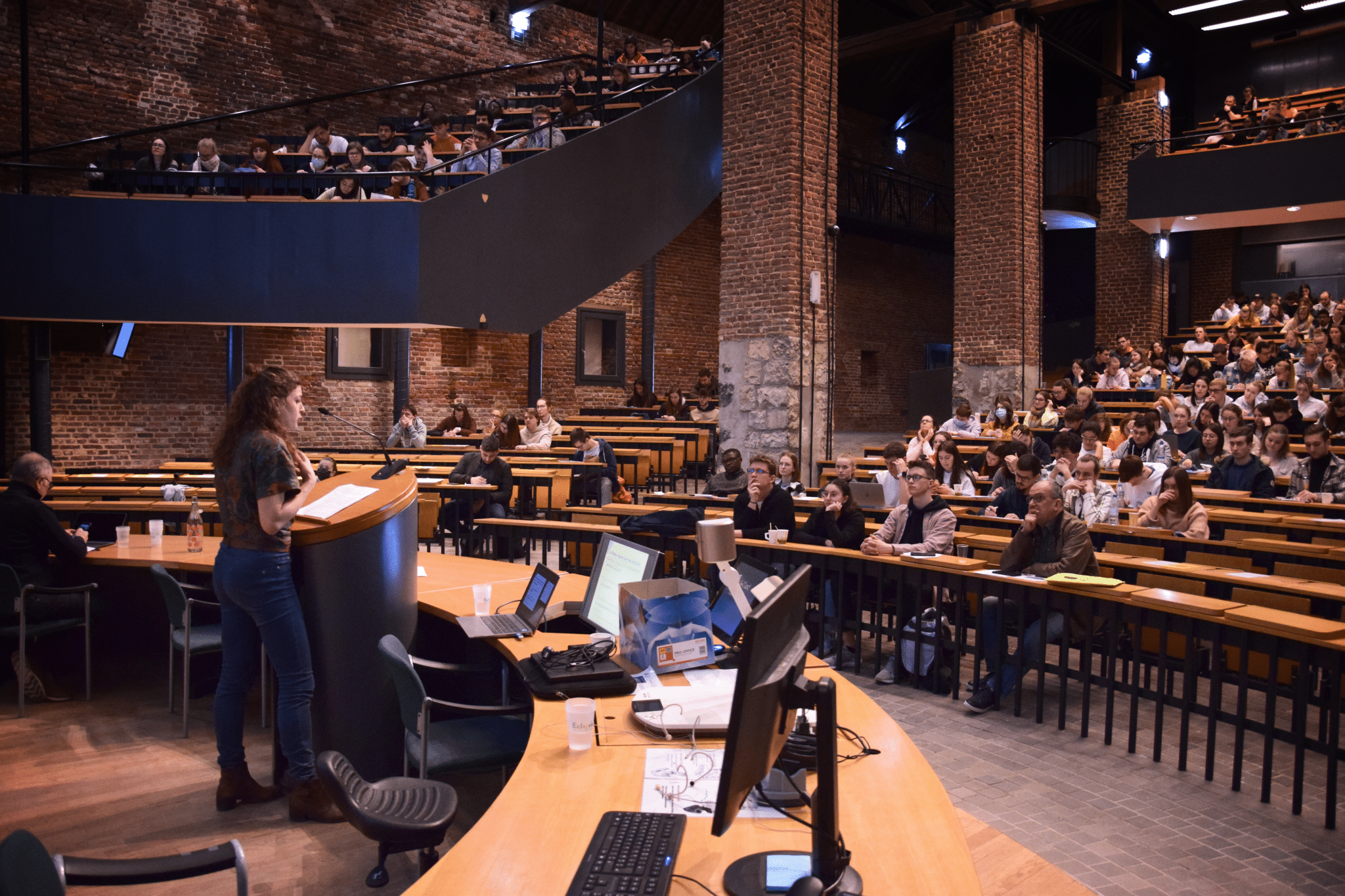 16 March, Gembloux (Belgium). Our traditional Jagros day, organised with our partners SOS Faim and Eclosio, was held again this year. Participatory workshops and lectures during the day raise awareness of global agricultural issues among 511 agricultural students from Wallonia.
8 May, Brussels (Belgium). Full house at Cinéma Galeries for the preview of "La Fabrique des Pandémies" by Marie-Monique Robin. This hard-hitting documentary deals with the urgency of preserving biodiversity to prevent future pandemics. This is an opportunity for our colleague Dr Issa Ilou, director of our programmes in the Democratic Republic of Congo, to present our new One Health project in Kahuzi-Biega Park, South Kivu.
17 May, Brussels (Belgium). Dirk Holemans interviews Pablo Titonnell, an expert in agroecology, for an audience of about fifty people at the Vooruit in Ghent. How can access to a varied and healthy diet be guaranteed for everyone? Can agroecology help to prevent pandemics? Find all his answers in our first podcast, available on our website.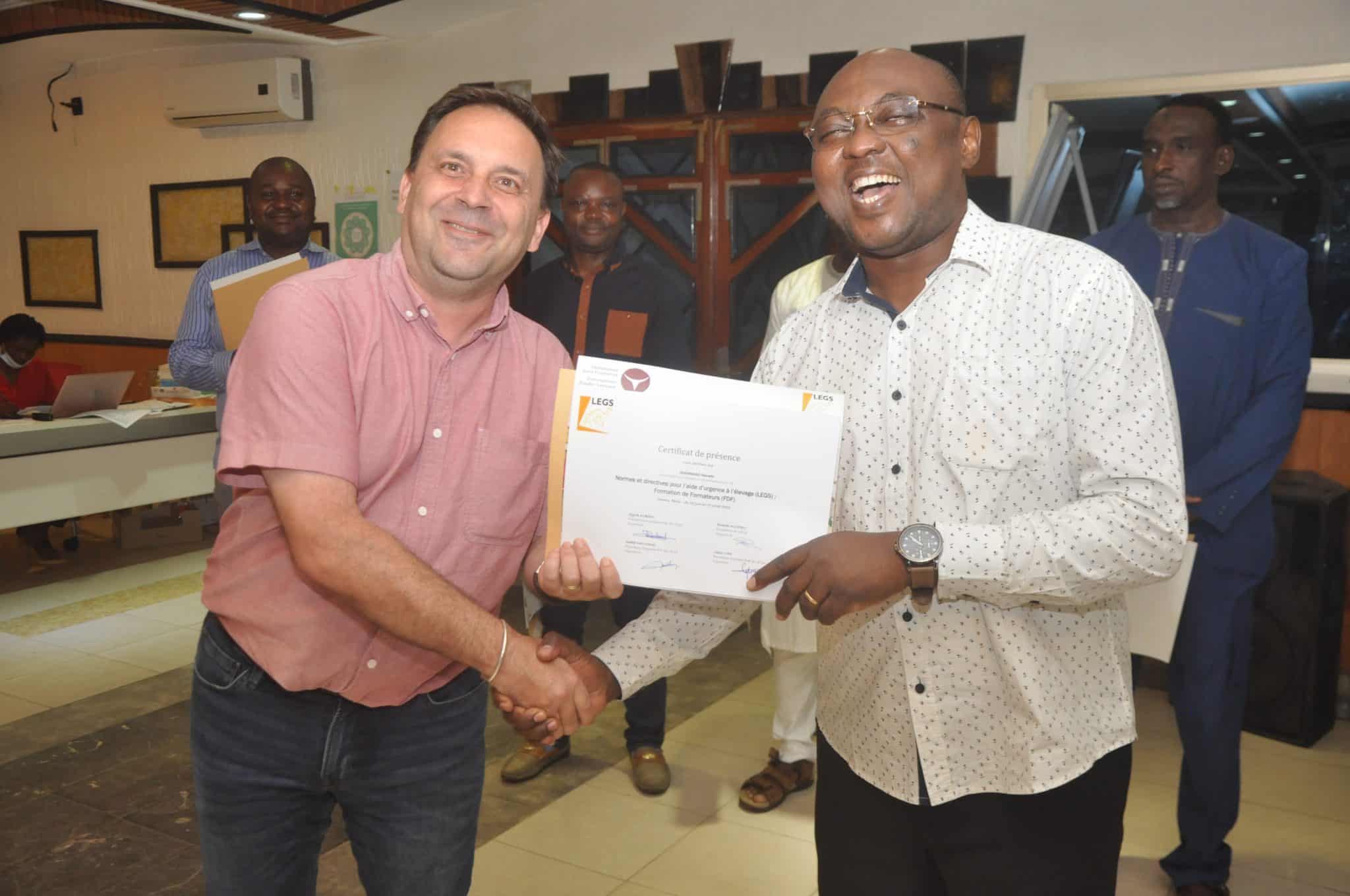 June, Cotonou (Benin). 18 colleagues from the Great Lakes, the Sahel and our headquarters meet up for training on the Livestock Emergency Guidelines & Standards. This is essential if we are to provide the most appropriate assistance to the livestock-keeping communities targeted by our humanitarian interventions. Denis Ripoche, our regional director for the Great Lakes in Africa, presents Hamado Ouedraogo, director of our programmes in Burkina Faso, with his certificate.
July, southwest Niger. With the support of the European Union (ECHO), we have started distributing food to help families uprooted by insecurity cope with the food crisis. For 3 months, we have provided food kits and vouchers to 1,073 families of displaced people and their hosts. Read Mariama*, Aicha* and Ibrahim*'s testimonials here.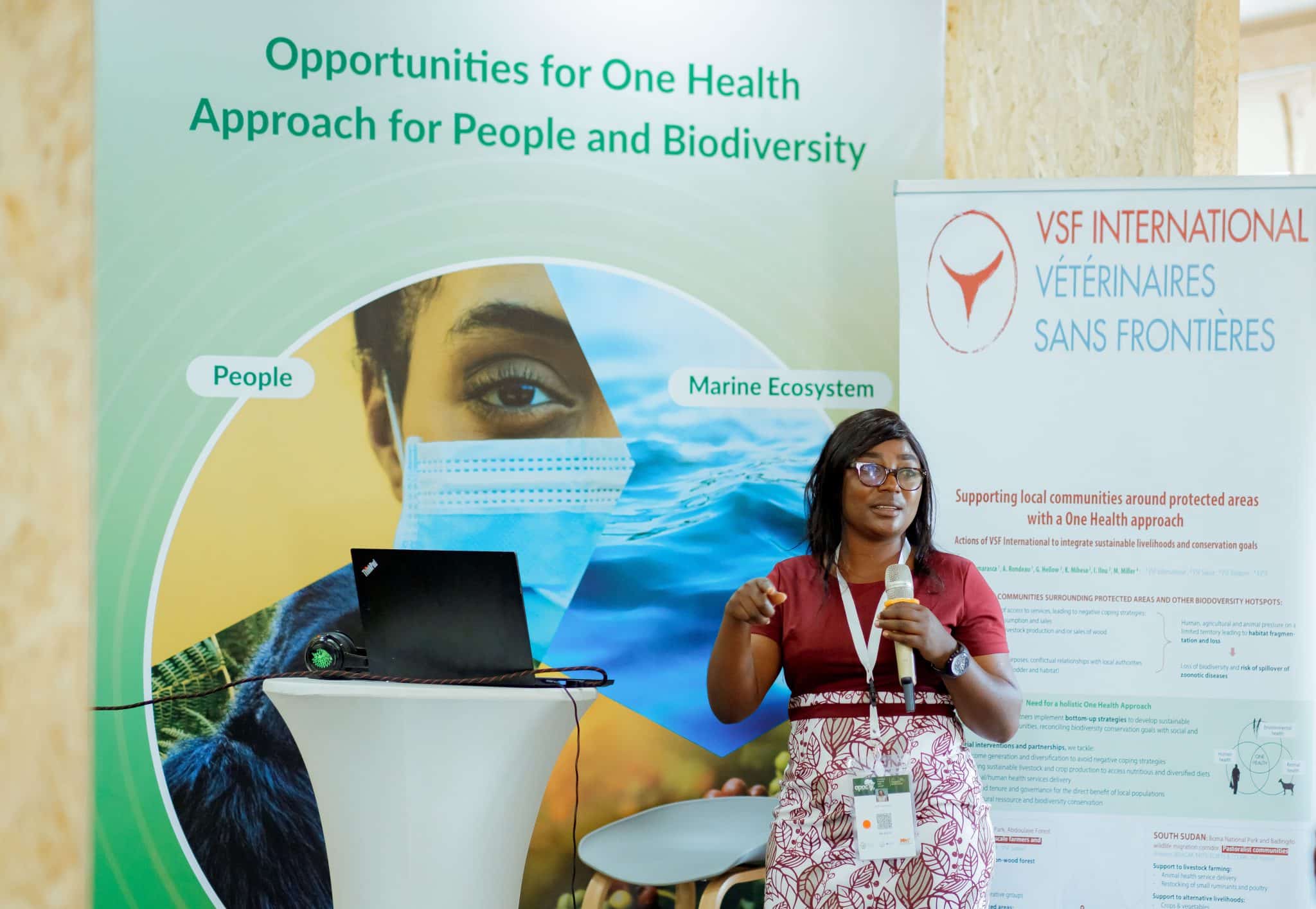 23 July, Kigali (Rwanda). Our vision of the One Health approach in eastern Congo takes centre stage at the conference on protected areas in Africa organised by the International Union for Conservation of Nature. Dr Safi Ngomora, a young private vet who was able to set up her practice in South Kiva with our support, explains her daily life and the challenges she faces in terms of animal, human and environmental health.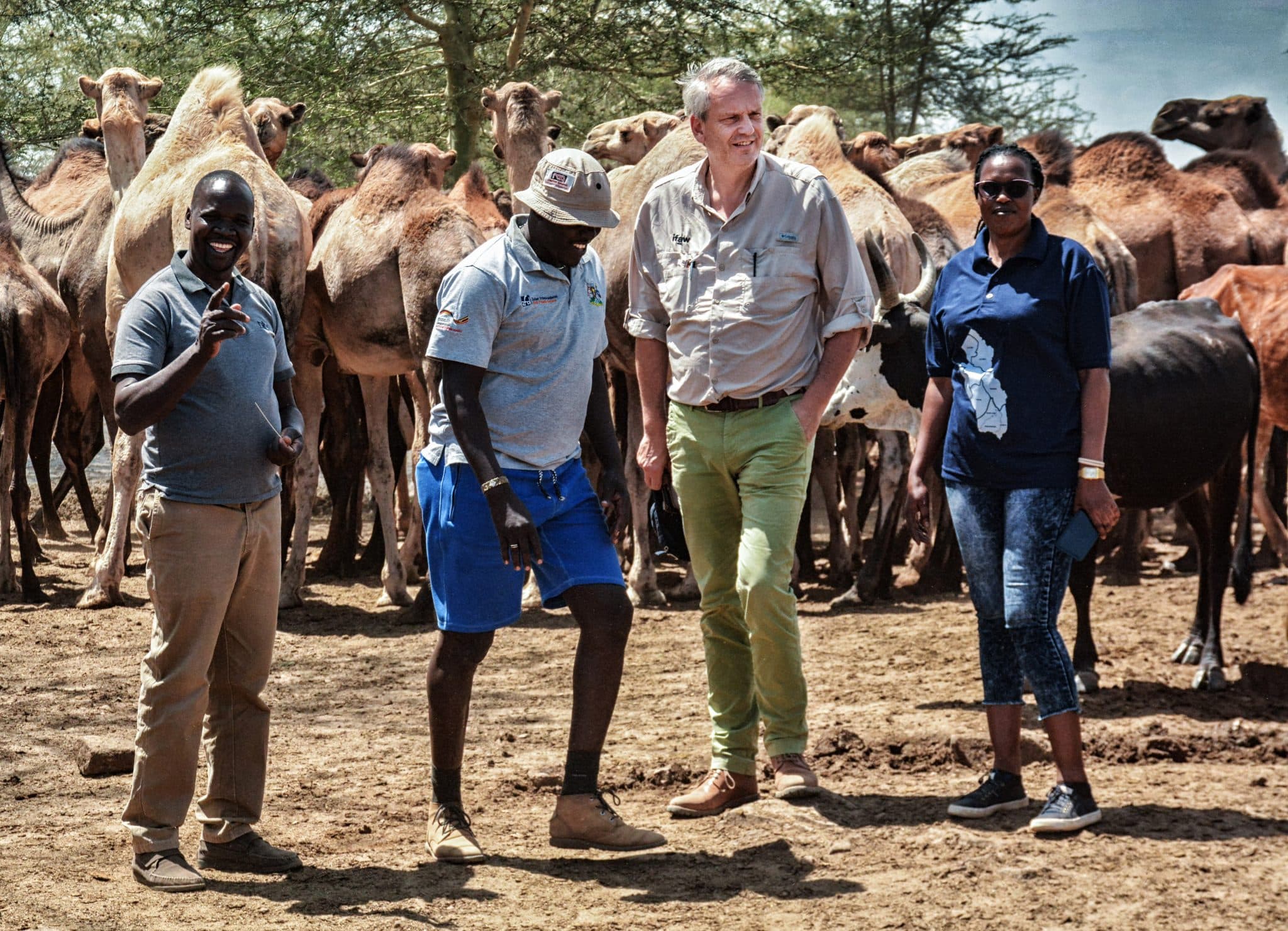 16 August, Brussels (Belgium). After spending 7 years at NGOs specialised in livestock keeping and animal welfare in the Netherlands, Joep van Mierlo has returned to the helm of our organisation. He immediately started reconnecting with the situation on the ground. Between October and December, our director made several working visits to the Sahel (Togo, Benin and Mauritania), Uganda (photo) and Rwanda.
29 September, Gentbrugse Meersen (Belgium). Guided tour of an organic livestock keeper's pastures, a screening of short films in the open air and a debate on the management of nature. That is the programme for our "Film in the Forest" evening dedicated to transhumance, in partnership with BOS+.
5 October, Nadéwa (Niger). Meryame Kitir, the Belgian Minister for Development Cooperation, visits our team at a vaccination site in the department of Gaya, Niger. The Minister made a symbolic contribution to the ongoing campaign to vaccinate small animals against lumpy skin disease and pasteurellosis. Locally based private veterinary services set up by Vétérinaires Sans Frontières Belgium have been active in Gaya since 2014. They currently employ 29 veterinary assistants, a private vet and a technical assistant.
October, Asaba (Mauritania). Second round of destocking in south-western Mauritania, as part of the European Union's humanitarian aid programme. We buy goats and sheep from livestock keepers to provide them with cash. Then we redistribute the meat to other families who are struggling to cover their food needs.
24 November, Gent (Belgium). The screening of the film "To Which We Belong" ends with a passionate debate on the future of food production between our guests Joost Dessein, Kurt Sannen, Laurens De Meyer and Geert Janssens. This event was organised with WWF-Belgium during the Food.Film.Fest.
November, Mopti Cercle (Mali). Fatou* (not her real name) belongs to one of the 600 Malian families selected to receive 3 goats. For more than ten years, the population of Mali has been subjected to violence and insecurity along the borders with Burkina Faso and Niger. Many livestock keepers are forced to leave everything behind and seek refuge in a safe place. To help them rebuild their lives, our team distributes goats to displaced families and their hosts.
1 December, Gent (Belgium). 36 students from HOGENT participate in the second edition of our "Youth Ideathon". The future scientists presented their innovative ideas to make our food system more sustainable to an audience of experts from the Flanders Research Institute for Agriculture, Fisheries and Food (ILVO).
8 December, Brussels (Belgium). The film festival "Perspectives on Pastoralism" returns to the European capital for a second edition with new films, a panel of experts from three continents and a photo exhibition. Our colleague Emmanuel Emaruk, the director of our programmes in Uganda, travelled to the festival to highlight the importance of pastoralism for the people of his home region.
*For security reasons, the names of the people interviewed have been changed.